#3: Gen Z branding tips
If you calculate how many stories, posts, messages, snaps, tweets, videos, articles...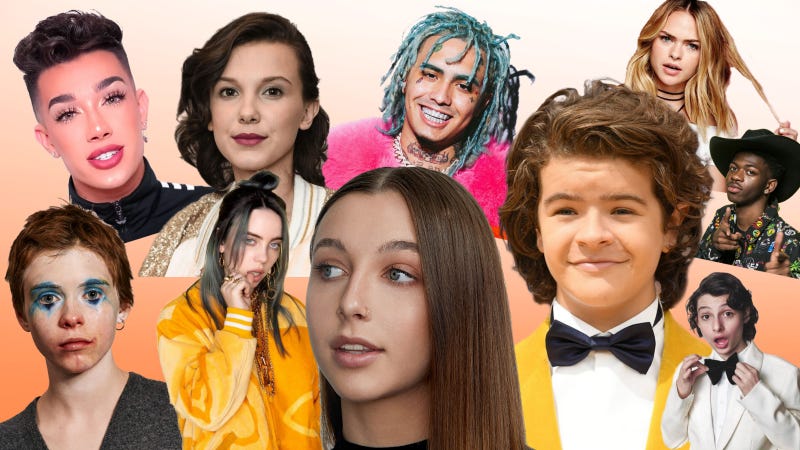 If you calculate how many stories, posts, messages, snaps, tweets, videos, articles, Netflix shows and who knows what else the average teenager consumes on a daily basis, it comes out to roughly 1,000–2,000 unique pieces of content & information. A day. LOL. That's almost a piece a minute. Humans (especially teens) aren't designed to consume this much information at such a rapid pace so we start to subconsciously ignore anything that doesn't provide us value (which ends up being most of it).
When everyone got their news from a single source, watched a single TV show, and used a single social network, it was much easier to stand out as a brand. Now that attention spans are in the gutter and content consumption is on the rise, brands need to have a way more empathetic approach.
Winning the attention of the youth requires much more than just grabbing it, you need to grab it and keep it. Number of eyeballs, or "impressions," are completely worthless if you can't capitalize on it. Brands need to hold weight, build trust, and create value — real value. I've listed 7 strategies below that could help (regardless of what your core product is).
1. Merch
Sound obvious? Not if you don't do it correctly…
Your brand actually has very little to do with your functioning product. It has more to do with your identity — your values, likes, dislikes, beliefs, and overall culture.
It's important to also understand the current social habits of Gen Z and why so many of them are sharing a play by play of their lives on Instagram, Snapchat etc. They go to certain places, dress a certain way, talk a certain way, listen to a certain type of music, all for clout or in other words, to boost their social reputation. The younger you are, the more likely you are to share all aspects of your life on social media. Fashion and style are driving forces behind this behavior due to the rise of streetwear in culture itself.
Everyone has a personal brand now, and similar to how a business partnership can mutually benefit both companies, merch can be used to "partner" with your user base to mutually benefit both you and them. You boost their brand, they boost yours.
It really doesn't matter what your core product is. Capture your values and toss it on some merch. Just look at what Reeses did with Travis Scott.
2. Create content that's built for sharing, not consuming.
Like I said above, the younger you are the more of your life you share publicly on social media. That's a fact. It's not even viewed as "sharing" since Gen Z grew up with a camera in their pocket. It's natural and normal, analogous to typing + millennials.
Pre-smartphone, the way we expressed ourselves was by rolling up to school in a new hat, with some new slang, and some new stories. That still happens, except now it happens digitally and includes many more aspects of your life. Find a new coffee you like? Share it! Loving that palm tree on the street corner? Share it!! Hair looking good today? Share it!!! Self expression at its finest.
As a brand, your content marketing strategy needs to revolve around sharing and not consuming. Teens already consume way too much. Give them something to share. Like a unicorn Frappuccino, or baby face filter.
3. TikTok
Everyone has a personal brand now, remember?? And we're all sharing and consuming more than ever. If you're a kid in the middle of all this, you feel a serious pressure to stand out from the crowd. Welcome, TikTok.
Everyone's thirsty to make unique, fun, and creative content that sets you apart from the kid next door. TikTok is an app for short-form videos that is capitalizing on this beautifully. It revolves around your authentic identity, not your polished identity. The more creative, relatable, and fucking weird you are, the cooler and more popular you become. Everything is very challenge-based. For example, there might be a challenge called #tubeman where it's a thread of people filming themselves acting like the inflatable tube man you see at the local car wash.
When starting a biz page on Instagram, you might ask yourself "What would my followers be interested in?" but on TikTok, it's more like "What would my followers participate in?"
4. Podcasts
The world is in chaos. Everything is on fire. Regardless if that's true or not, it certainly feels like that to a typical 2019 teen. The health and wellness industry is exploding because of this, partially fueled by the desire of Gen Z to be "healthy and well" amidst all the chaos. One component of this industry that tends to get overlooked is knowledge. Acquiring knowledge feels good, it feels healthy. It also helps you stand out amongst your peers. Podcasts are becoming the simplest, most convenient way to acquire knowledge. Toss on headphones, tap play, and try your best not to get distracted. Teens are listening to them now more than ever.
On top of that, podcasts have become a very trusted source for sponsorship, mainly due to the fact that as a consumer you choose to listen to each one. It's not forced into your feed, or snuck in between your shows. When you press play, you're listening (or trying to listen) to every single word. Listening with your ears requires exponentially more focus than watching with your eyes, or swiping with your thumbs. You feel like you're right there in the conversation, not watching from afar while also browsing Instagram. The podcaster is literally teaching you while you have volunteered your time to listen. Trust develops.
On a serious note, I know a couple people personally who have changed seemingly fixed habits, such as deodorant, due to a shoutout from the man himself, Joe Rogan.
5. Nano influencers
The original idea behind IG sponsorships was to pay a popular "Instagram Influencer" to use your product and post about it. This strategy is becoming pretty expensive and increasingly ineffective - engagement continues to drop on these posts. Teens know that these influencers are just trying to build their careers and make money. They are fine with it, they just don't trust it. Trust is everything.
Nano-influencers (~1,000–5,000 followers), aka normal humans, are becoming a hot marketing tool. Similar to merch, give a normal kid a piece of content that will make them look cool and they'll post it. Not only does it feel more organic than a celebrity post, but if you could do some serious damage if you execute this strategy with hundreds of teens in a concentrated area.
6. Digital Avatars
I recently wrote about the rise of avatar technology and how consumers will eventually use them as fantastical expression tools, but another important aspect to dig into is how brands are already capitalizing on the avatar trend.
One obvious example is Lil Miquela, a hyper-realistic digital avatar that looks, feels, and behaves just like your typical Instagram model. She looks 100% human, but she's 100% not. Most people don't believe she's purely digital even when you tell them. This confusion is exactly what's so intriguing about her and what's led to following of over 1.6 million. She's a completely fabricated IG influencer. Brands like Samsung are already catching on and including her their marketing campaigns.
Another example is what we're doing here at Genies with the recent launch of our Media Network, which gives brands the ability to use digital avatars for both celebrity partnerships and consumer-facing integrations. Gucci, New Balance, Bird etc. have already engaged millions of customers using genie avatars. One might call it a new form of avatar-based advertising. Onwards!
7. Emma Chamberlain-ify your brand.
Emma, Emma, Emma. Google her if you don't know her. Emma captures the entire mood and aesthetic of Gen Z. They want authenticity, they want to be understood, they want to relate. We're all more connected, yet lonelier, than ever.
"Chamberlain is relatable, her fans say: Unlike those other YouTubers living in mansions with perfect hair and expensive clothes, she's just an average teen."
Billie Eilish is another example of the quintessential Gen Z celebrity. Just look at how she released her new track with Justin Bieber a few weeks ago. The album artwork and social media marketing all revolved around one single picture of Billie, pre-fame in her old childhood bedroom, surrounded by Justin Bieber posters covering the walls. Fucking epic.
Study these up and coming celebrities, listen to what they preach, fully embody their values in your brand. They are relatable, trustworthy, and authentic. In other words, GEN Z.